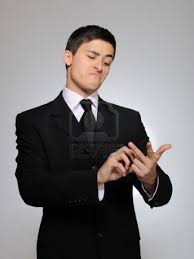 If you want more sales, there's only three aspects of importance:
The level of quality of the prospective customers you speak to
How many prospective buyers you talk to or meet
The superiority of your appointment setting conversation
Let's address item #3,  setting appointments and stuffing your appointment book.
It's likely that your first contact with the prospect is a phone call. But before you call, I recommend that you first take action to make an impression on the prospect that you're the superior professional option.  You impress the prospective client by mailing an item such as a brochure that you published, a write-up written about you or a piece that you authored, a recorded interview - whatever tells the potential customer, "this isn't an ordinary sales person, this is a professional!"  On our main blog, I have covered this topic and others on financial services marketing.
In the event you establish your credibility, you'll gain trust, and your first call will be productive. And a warm call progresses to setting an appointment. Make certain that your first call is about the potential customer, not about you. Here is a sample discussion. This example deals with the issue of reducing taxes, but see if it works equally well with your product or service:
Hi, Mr. Stanford?
Yes.
This is Stu Johnson and two days ago you contacted my office and ordered a copy of my report, "Six Techniques to Reduce Taxes." Did that get to you?
Yes it did.
Might I ask, what motivated you to order the pamphlet?
I pay too much taxes and I need a break.
How much income tax do you think you pay ?
My quarterly payments are $18,000.
That is a lot of money. Has your tax consultant been able to assist you to?
No.
Has your financial consultant been any help?
We obtained some tax-exempt bonds, but that didn't make a large difference.
It sounds like you're not getting the type of advice you want; is that accurate?
Yes.
What do you think some remedies are?
I don't know, I'm searching for a person that thinks outside the box, not the same old stuff.
So you are seeking new ideas?
Yes.|
Should you get advice on new ways to minimize taxes, what would you do with those cost savings?
I'd possibly take an additional vacation.
You like to travel?
Yes, it's my favorite pastime.
Where are you traveling to next?
All over China.
That's fabulous. Well let's see if we can save enough income tax to get you an additional week in Beijing. Would you like to know what other folks in your circumstance are doing to minimize income taxes?
Yes.
Great. Our financial advisory firm has town meetings on Tuesday and Thursday afternoons as a service to the community. At those meetings we show you what other retirees like yourself are doing to significantly trim their taxes. Would you like a seat and see how your neighbors do it?
Yes.
You are able to see from this dialog that our sales professional resists talking about his products and services or his firm or himself.
Our professional accomplishes his objective (appointment setting) by focusing on the potential customer and offering something important to the prospect. Since you offer something to prospects that they believe has value for them or have importance for them, they are happy to set a meeting.
Some professionals have three times as many appointments as others who don't understand the best way to have an appointment setting conversation.  Most sales people, sadly, have the focus of their discussion on me, me, me. But the prospect does not care about you, how long your organization has been in business or your experience. The prospect's major issue is their own agenda, their own dreams, their own difficulties and not your history.
Prior to hiring you, the prospect does not want to know about your enterprise and your background, so until then, it's too early to talk about you instead of them. You may believe they want to know all about you but that's a perfect illustration of your self-focused myopia. There is no psychological or scientific proof that prospective buyers are inspired to set an appointment by the impressive details about yourself or your firm.
Apologies for the harsh words, but I hope to shock you into a new means of appointment-setting which is much more effective.